[:da]
I foråret 2015 tilbød Secret Hotel endnu en serie sansevandringer ved Lotus Lykke Skov. Produktionen er en del af Lotus' færdiggjorte speciale i Æstetik og Kultur, og placerer sig under Secret Hotels flerårige projekt Landscape Dialogues. Vandringerne er eksperimentelle, stedsspecifikke og udføres med én deltager ad gangen.
I forbindelse med "Sensescapes" kan du også opleve vandringsforestillingen "Tanke Gange".
Løbende info og dokumentation her.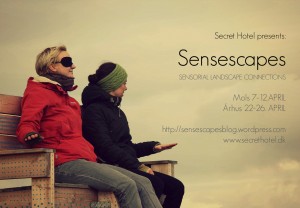 [:en]
During spring 2015, Secret Hotel offers a new serie of sensorial walks "Sensescapes" by performer Lotus Lykke Skov, as a fusion of Landscape Dialogues and Lotus' final thesis in Aesthetics and Culture at Aarhus University. They will be experimental, site specific and done with one participant at the time.
At the same time, you can also experience the walking performance "Think Walk".
More info here.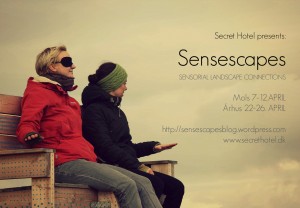 [:]