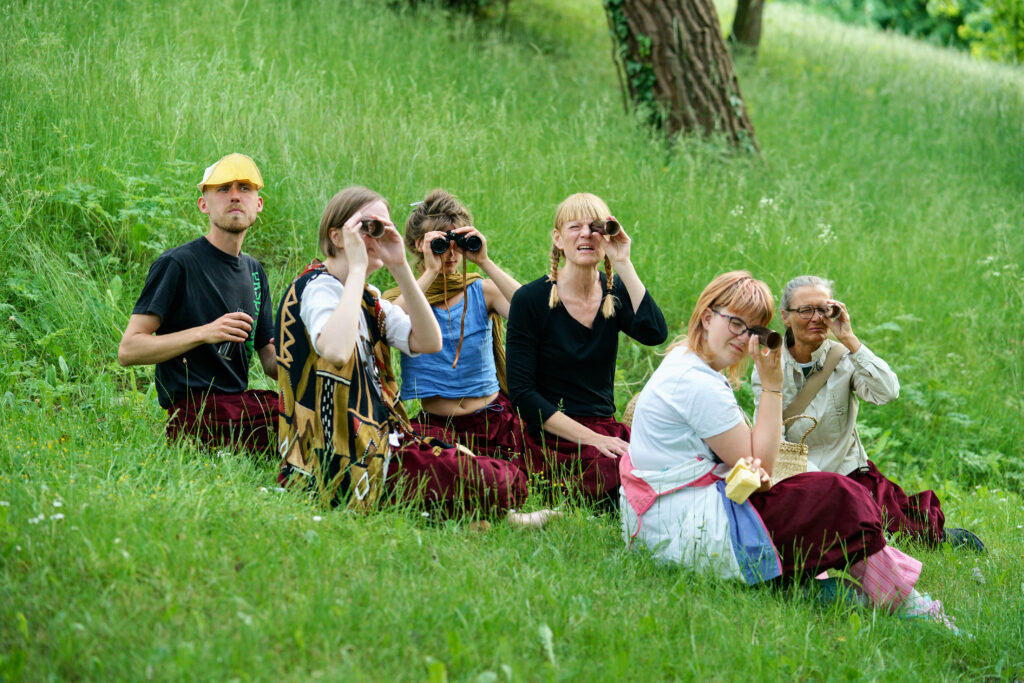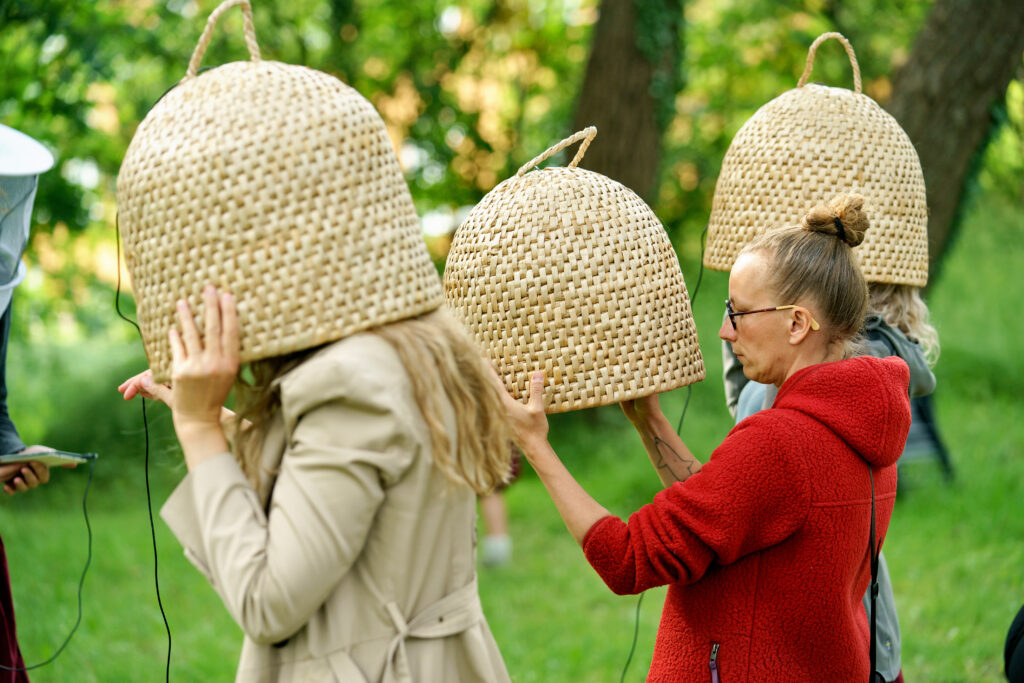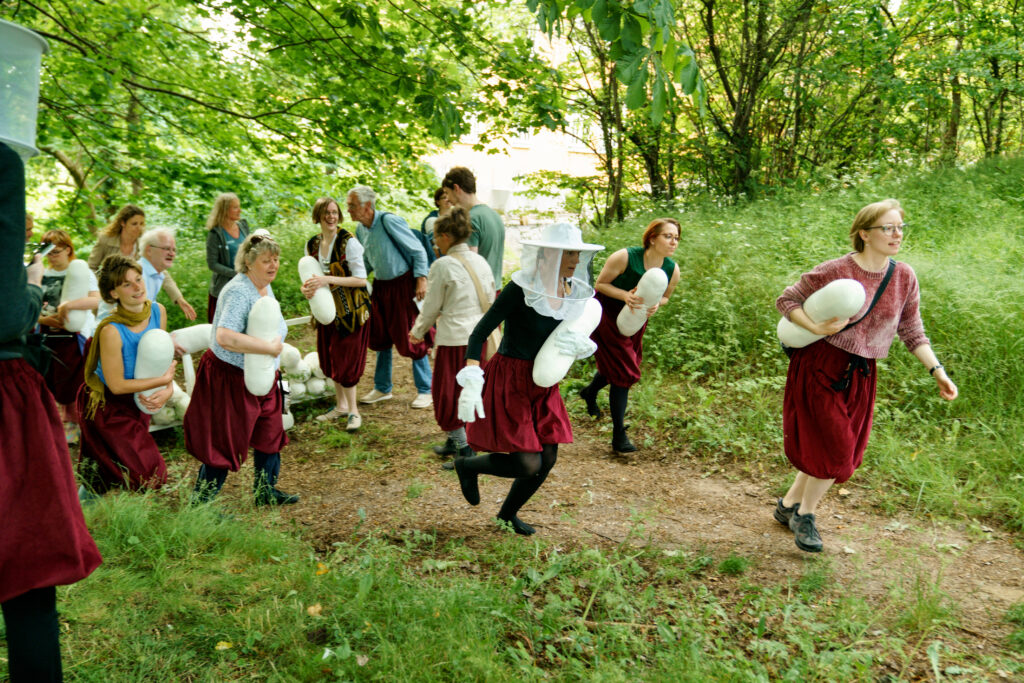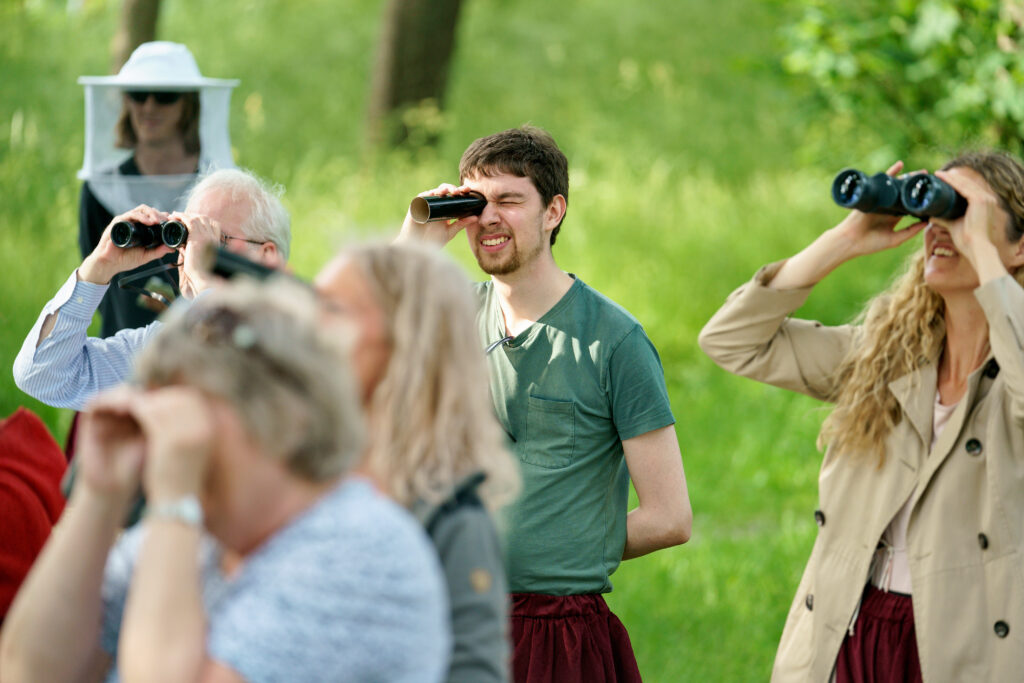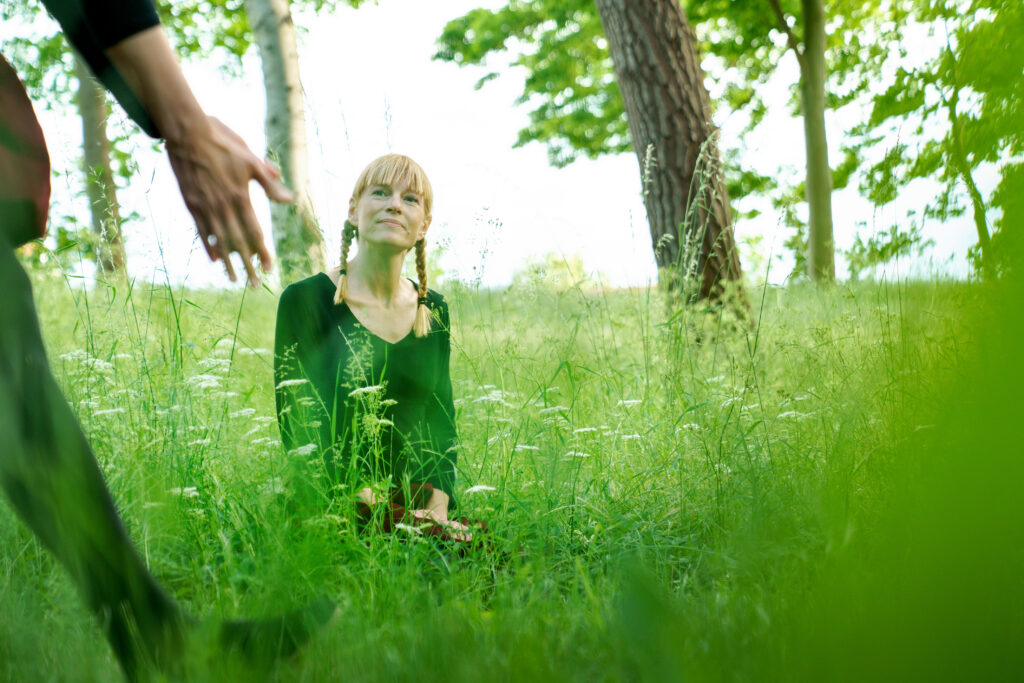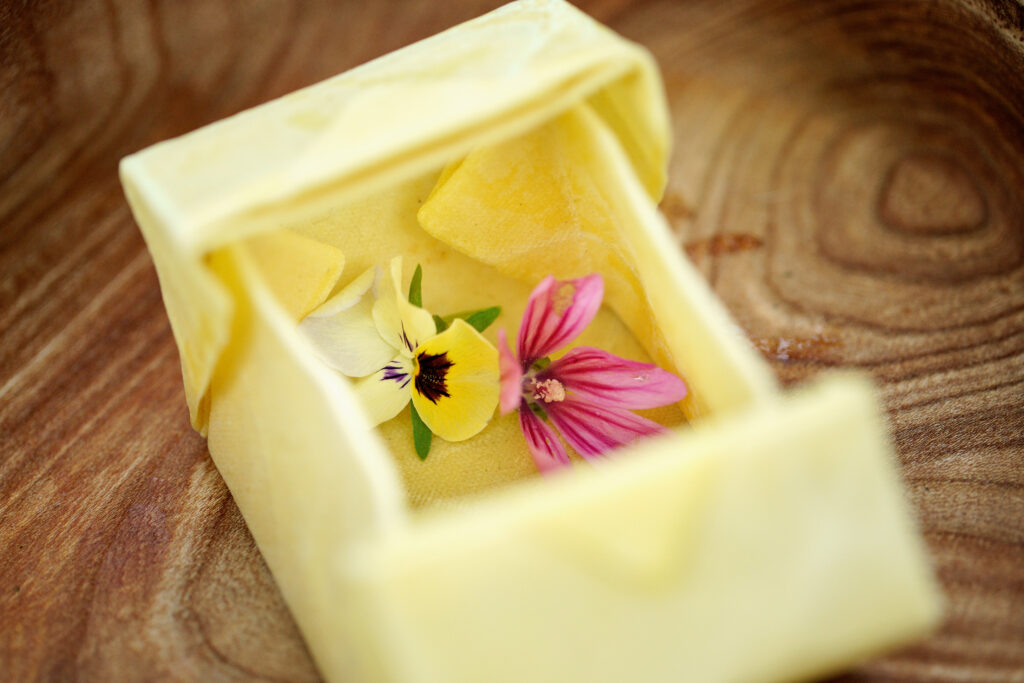 BANQUET FOR BEES
Banquet for Bees is a buzzing outdoor performance for adults – but children from 8 years and up are welcome in the company of a parent or caretaker. The performance takes place around a banquet table, where guests are offered a menu of elements from the bees' world – pollen, honey, beeswax, edible flowers, as well as the vegetables and fruits that bees are essential for. Everything is served together with nerdy bee knowledge, sensory experiences, poetry, dance and soundscapes. Guests are introduced to both honeybees and wild bees – two parts of the bee world that are currently described as opposites. But who can tell what's up and down at flower level?
"Wearing baggy pants, we ourselves became a kind of worker bees, who, after being tuned in with a buzzing straw beehive over our heads, were assigned various bee jobs and learned something about swarm intelligence. Fun to be sent out as scout bees with huge magnifiers as insect eyes in search of flowers to suck nectar from. Just as the bees dance to signal to the flock where the tempting flowers are, we were to do a tail dance to signal the grand banquet finale around a long table."

Monna Dithmer – Politiken 2020
"The participants in 'Banquet for Bees' are both spectators and participants in a fascinating story that takes place in open air. … A very special nature-immersed atmosphere envelops you when you sit in the grass and listen to Swedish performer Charlotta Grimfjord Cederblad's story about how, as a child, she watched her father work as a beekeeper from behind the windows of the house."

Lisbeth Dahl – Teateravisen 2020
The piece is co-produced with Pro Progressione (HU). This is the trailer from Hungary.

Banquet for Bees has previously been shown at: IETM Plenary Meeting (2023), Nordic Street Festival (2022), Momentum (2021), CPH Stage (2021), April Festival (2021), Jord Festival Stevns (2021), Passagefestival Helsingør (2021), Botanical Garden Aarhus (2021), etc.
Director, concept and performer
Performer and co-creator
Co-creators
Performer
Voice of scientist
Composer
Dramaturg and tech
Scenographic consultant
Tailors
Coordinator
Duration
Booking
Christine Fentz
Charlotta Grimfjord Cederblad (S)
Katerina Kokkinos-Kennedy (AUS), Gergö Lukacs (HU), Viktória Makra (HU), Bodil Buonaventzen
Lotus Lykke Skov
Horticulturist Lise Hansted
Birgit Løkke
John Tinning
Sigrid C. Moses-Jacobsen
Bodil Buonaventzen, Marianne Henez (HU), Helene Jensen/Textilkokken (DK)
Maja Ravn Christiansen
90 min.
Tel +45 5055 6263 – coordinator@secrethotel.dk
Banquet for Bees is supported by