News
EARTHBOUND RESIDENCIES
In connection to EARTHBOUND Residencies at Kulturprinsen in Viborg and ARoS in Aarhus, we have different events. Ant artist Kuai Shen is staying at Kulturprinsen, while Karine Bonneval works at ARoS with plants and gravity. You can here about their work on the following days:
8th of October at 19: Artist talk with Kuai Shen at Viborg Kunsthal: https://www.facebook.com/events/2492106711088830
12th of October at 18.30: Artist tak with Karine Bonneval, researcher Susanne Marieke Vogel and Kuai Shen at ARoS: https://www.facebook.com/events/254906739080639/
18th of October from 13-15: Workshop with Karine Bonneval: https://www.facebook.com/events/2243828912580300/
TESTVISNING – BANKET FOR BIER 16/9 og 21/9-20
Secret Hotel søger prøvepublikum til forestillingen "Banket for Bier", som skal spille på Horsens Teaterfestival 2020. "Banket for Bier" er en familieforestilling – voksne kan komme alene, eller tage børn med.
Vi søger både voksne og børn over 8 år, som er interesserede i at deltage. Visningerne vil foregå udendørs i Mols Bjerge for at optage video til trailer og VR (Virtual Reality).
Man kan komme blot én gang eller begge gange. Mere information nedenfor.
Info om "Banket for Bier"
"Banket for Bier" er en familieforestilling, hvor scenekunst møder forskning. Performerne guider gæsterne, og serverer inddragende sanseoplevelser omkring et langt banketbord. De serverer smagsprøver fra biernes verden, blandet med bidans og nørdet bividen. Sammen iagttager vi jord, luft, blomster og div. kriblearter, mens vi dykker ned i biernes univers – biernes glæder og deres udfordringer.
"Banket for Bier" handler både om honningbierne og de enlige bier – to områder af biernes verden, som i disse år omtales som hinandens modsætninger. Men hvad er op og ned på blomsterniveau?
16 september kl 16: Testvisning samt videooptagelse til trailer
Visningen tager 80 min. og videooptagelserne vil foregå undervejs.
21 september kl 13: Testvisning samt VR-optagelse produceret af LiveArt.
VR eller virtual reality, er en teknologi, der inviterer brugeren ind i en virtuel verden, hvor det er muligt at opleve en forestilling som om man selv var til stede. Vores kollegaer LiveArt producerer sådanne optagelser (http://liveart.dk/da/). Denne dag vil kræve lidt mere tid pga. optagelsesformatet. Sæt gerne nogle timer af.
Hvis du er interesseret i denne dag, men har problemer med tidspunktet, så skriv alligevel, så ser vi på det.
Adresse: Earthwise Residenscenter, Provstskovvej 9, Bogens, 8400 Ebeltoft.
Hvis I har lyst til at være med, venligst reservér pladser via: info@nullsecrethotel.dk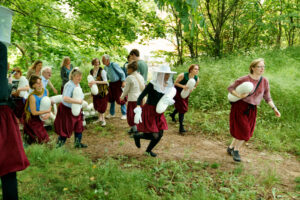 1st of July
Due to Covid-19 we are postponing the symposium EARTHBOUND to 2021. Read more about the details here
29th of June
A huge thank you to the Arts Council Comittee for Visual Arts for supporting EARTHBOUND Residencies in October 2020.
22nd of June
Thank you to Nordisk Kulturfond and Syddjurs Municipality for supporting Earthbound.
PREMIERE – BANQUET FOR BEES
Banquet for Bees is a walking family performance, where the arts meet science and the poetic. The work is suitable for children aged 8 years and up and their parents. The performance revolves around a long banquet table, and taste experiences from the world of bees.
Dates:
11th of June at 17 in Ebeltoft
12th of June at 19 in Ebeltoft
13th of June at 14 in Aarhus
13th of June at 16.30 in Aarhus
Get your ticket here: https://billetto.dk/search?text=secret+hotel
Banquet for Bees will take place outside playing for 20 participants. Official restrictions and guidelines are taken into account.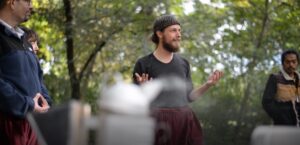 May 7th
Thank you to The European Region of Gastronomy for supporting EARTHBOUND 2020
March 24th
We at Secret Hotel are standing together by keeping a distance. So like many others we've been working from home fro the past 8 days and will continue to do so until we're all safe in each others company again. We hope everyone is safe and looks out for each other in these Covid-19 times.
March 10th
Myrepostyr is now called Ant Business in english, and with a donation from the municipality of Syddjurs we've been to Feldballe Friskole to do some Ant Business with their awesome 4th-5th graders.
March 2nd
Focus on calmness, moon and body, do yoga with moon poses, join the silent walk and do a short tea ceremony in wonderful surroundings of Mols. Once again we invite you to our Moon Yoga event, this time on Sunday the 8th of March. Find your ticket here.
February 5th
We just got home from three productive days in Copenhagen. We had a lot of fun with 5.b from Christianshavns Døttreskole where they got to try out Myrepostyr.
January 31st
We have had three lovely days on Mols working on Myrepostyr, our children's version of Walking Lecture on Ants.
December 17th
Huge thanks to Aage and Johanne Louis-Hansens Fond for supporting Earthbound 2020.
November 18th
Christmas is coming. Why not prepare with a calm trip in Mols Bjerge? Our next forest bathing trip is the 15th of December from 1-4 PM. We finish with warm glögg. You can sign up here. 
October 10th
We just got home from Hungary, where we have been working on Banquet for Bees and showed Walking Lecture on Ants at MitOst Festival. Thanks to our Hungarian partners Pro Progressione and The Danish Arts Council for making it possible.
August 20th
We are looking forward to Kulturmødet on Mors, where we will be showing an excerpt of Walking Lecture on Ants at 1 PM and where Christine will participate in a debate about art and FN's Sustainable Development Goals at 3 PM in Lysskoven the 23th of August.
August 9th
Christine is in the process of becoming certified as a guide with Association of Forest and Nature Therapy (US). Therefore she offers a free guided tour in Mols Bjerge the 17th of August from 3-6 pm. You can see more and sign up here.
July 31th
At the moment we have 6 songwriters in residency. It is Magnus Petterson, Anna Ottertun, Carsten Cær, Marianne Holmboe, Sofia Ekberg and Ola Karlberg. Today they played an acustic concert at Mols. Thank you to everyone who participated.
July 22th
Today Christine is visiting a small festival in Tisvildeleje with an excerpt from Walking Lecture on Ants.
June 24th
Huge thanks to the Arts Council who is supporting EARTHBOUND 2020.
June 21th
Huge gratitude to the Arts Council of Aarhus Municipality for their grant to EARTHBOUND in September 2020.
June 17th
Today Christine is going by train to the UK to participate in the conference Evolving the Forest. Here she will facilitate a workshop together with Inger Kærgaard about the anthropocene and biocentric participation.
May 31th
Today we visited ARoS in Aarhus with 3 small ant walks. It happened at the opening of Genopdag Festival. Thanks to Region Midt for inviting us.
May 13th
Thanks to Statens Kunstfond who supports the composition of sound for our next walking lecture BEEEZZZ. Composer Birgit Løkke has already started working on the sound, and she is among other things recording sound from beehives.
April 27th
This week we visited both Carte Blanche and Molsskolen with our children's version of Walking Lecture on Ants: Myrepostyr. Thank you to Syddjurs Municipality for making it possible.
April 26th
A big thank you to Region Midtjylland who is financially contributing to EARTHBOUND 2020. The symposium will happen in the fall with residencies across the region.
April 7th
The 27th of April we visit Culture Festival for kids and young people on Mols and Helgenæs with our children's version of Walking Lecture on Ants: "Ant Business". It takes place at Molsskolen at 2 PM. Thank you to Syddjurs Municipality for making it possible.
April 2th
We are looking forward to May, where Katerina Kokkinos-Kennedy from Triage Live Art Collective in Australia visits us to be a part of the development of our walking lecture on bees: BEEEZZZ.
March 15th
We are really happy to collaborate with Kompetencecenter Nord, who are making the suits for our children's version of Walking Lecture on Ants: Myrepostyr.
February 9th
Christine is in Hungary, with Pro Progressione to audition performers for our next performance, on bees.
January 16th
"Being Grass" is the title of the workshop that Christine Fentz facilitates during the conference "Multispecies Storytelling in Intermedial Practices" in Växsjö, Sweden.
January 9th
Secret Hotel participates in the National Park Outdoor Conference hosted by Mols Bjerge National Park. As a member of the National Park business network Christine gives the participants a sense activating walk as a tasting of what we do at Secret Hotel.
December 21st
Today we pull the plug and start enjoying the holidays. We wish you all a Merry Solstice, Christmas and a Happy New Year. See you in 2019!
October 30th
Today we travel to IETM Munich Plenary Meeting 2018. You must travel in good time when going by train. We are excited to attend all 4 days of the IETM meeting, where Christine also will be co-facilitating Mentor Room!
September 29th
We wish to show our biggest gratitude to all of the financial contributors who supported EARTHBOUND. Without your support we wouldnt have been able to facilitate these amazing meetings between our great variety of participants.
Thank you: Statens Kunstfond, Aarhus Universitet, Nordisk Kulturfond, Aarhus Kommune, Aage og Johanne Louis-Hansens Fond and Region Midtjylland.
September 26th
Today EARTHBOUND is launching! We are excited to welcome all participants to Kasernen in Aarhus and invite them for some hopefully insightful and inspiring days.
September 18th
EARTHBOUND is now closed for registration due to the overwhelming amout of participators. We are amazed by how many who are interested in meeting to deal with "the multispecies paradigm shift". We have definetly been confirmed in the importance of this topic, which motivates us even more to create EARTHBOUND in 2020!
August 15th
Today we met with some of our collaborators of the symposium EARTHBOUND. Status and discussion were shared between us and our competent EARTHBOUND colleagues. We collaborate amongst others with Performing Arts Platform, Anette Vandsø, Thomas Rosendal Nielsen and Pappagallo. . We are looking forward to the end of September!
August 1st
We are back after the summer holiday. The following months we will especially focus on EARTHBOUND. The international symposium taking place September 26-29th. Simultaneously we are preparing guest performances of the long-standing performance B.O.D.Y – to have of to be. When we reach November, we will be attending the IETM Munich Plenary Meeting 2018.
Juli 24th
Over 30 people came to the concert at Secret Hotels residency center in Bogens. Thank you to all who came by, both locals and loyal summerhouse guests. The following days the musicians Anna Ottertun, Marianne Holmboe and Sofia Ekberg spend writing songs in the beautiful hills.
June 17th
In collaboration with LitteratureXchange and author Theis Ørntoft, Secret Hotel hosts a litterature and landscape walk in Bogens in Mols Bjerge. The audience are invited to a mix of landscapes, senses and poetry reading in beautiful surroundings.
June 9th
"Walking Lecture on Ants" is presenting in Copenhagen during CPH STAGE. We have 2 shows Saturday 9/6 in Østre Anlæg. We are excited to visit Copenhagen with a performance that was sold-out in Aarhus during the European Capital of Culture 2017.
May 25th
Now the postcard for our symposium EARTHBOUND is out – so now its actually really going to happen – make a mark in September!
May 24th
Production coordinator Vibeke is attending Naturmødet in Hirtshals, Northern Jutland, DK. This trip offers panel discussions about the difference between nature and culture, sensory art experiences and much more
May 14th
We've attended the conference invited by the Minister of Culture, on the performing arts of the future. A whole day in Odense with most of Danish theatre being present. Now, as always after these reoccuring events, we await to see what the minister decides to do…
April 26th
Christine is attending the international network for contemporary performing arts (IETM) in Porto at their plenary meeting. She has been invited to share her knowledge during a panel discussion on Immersive Theatre.
April 25th
Bestseller-biologist Dave Goulson ("A Sting in the Tail") is visiting the University of Copenhagen which is the perfect occasion for us to dive into future project themes. Secret Hotel travels to Copenhagen to attend the talk about Goulson main area of expertise, the solitary bee or bumblebee.
March 16th
After 3 intense and fruitful days around & about Mols Bjerge National Park Secret Hotel can name ourselves Certified National Park-partner.
Christine and Vibeke has furthermore acquired the title "National Park hosts".
February 15th
After the proclaimed hiatus, we are now opening the doors again – and are happy to welcome two: Vibeke Holm, Secret Hotel's new project coordinator, and Anne Mette Laursen, project manager for the symposium EARTHBOUND in September 2018!
November 16th
Today is the day before Christine is taking a proclaimed hiatus from Secret Hotel. We open again medio February next year.
September 23rd
We have had a successful ant premiere on "Walking Lecture on Ants" in Aarhus Botanical Garden followed by some inspiring days of performances.
September 8th
"Wolf Safari" by our Finnish colleagues Other Spaces has had performances in Aarhus, and two good safaries in Copenhagen Sept. 1st and 2nd, and Pernille and Kasper have just begun the September tour of "K.R.O.P. – at have eller være" in Copenhagen & outskirts.
August 29th
We have had both a successful pilot premiere on "Walking Lecture on Ants" and an English-version (on August 27th) in the Botanical Garden of Aarhus. We are looking forward to premiere and two performances, September 22nd-24th (almost sold out), same "venue".
August 15th
We are getting ready with our pilot premiere of "Walking Lectures on Ants." You can experience it with us at the Botanical Garden of Aarhus August 21., 22. and 27., and September 23. and 24. Find time and place here.  Get your tickets here: Folkeuniversitet Aarhus
August 13th
Other Spaces from Finland are visiting us again, this time to invite us on a Wolf Safari in the dark night. You can experience this in Aarhus the 19., 25. og 26. of August, and the 1st og 2nd of September in Copenhagen. Get Aarhus tickets here Enkeltbillet and Copenhagen tickets here Dansehallerne.  
May 17th
Test run of "Walking Lecture on Ants", The Park of Vennelyst, 1pm. Sign up on info@nullsecrethotel.dk
april 21st
After intense rehearsal days during April, Christine and Betina Birkjær together, we had a succesfull test run of "Walking Lecture on Ants" in the park of Moesgaard, where the students of Andreas Roepstorff were good test guests with precise response. See photos from the day on our facebook.
March, 9-12th
Christine travelled by train to Saxnäs North of the Artic Circle, in Swedish Sápmi, for Nordic Summer University's winter session, and presented work together with Ragnhild Freng Dale.
January 5th
The team behind "Walking Lecture on Ants" met in the snowclad hills, and began the work on our piece, while also making a very first test, inviting Augustine as our trial audience.
January, 7th, 9th
"Augustine Collective" invited for two showings, in Bogens with ten visitors, in Aarhus at Godsbanen with less guests. Interesting and participatory explorations!
2017
January, 4th-5th
HAPPY NEW YEAR & SOLSTICE!
The team of the Ant-piece meet again and try out concrete ideas, in a magically beautiful snow landscape (even if the piece itself will be a city piece). The Augustines take part as guineapigs.
December, 26th
6 adults, 1 baby arrive – "Augustine Collective"; an international dance collective will work for a fortnight in the studio, across New Year; on ownership & authorship.
December, 16th
"Flugtende Fortællinger" (Parallel/Fleeing Tales – the wordplay is hard to translate) has a first test pilot – a row of storyteller evenings, organized by Nemo and Mads. Join an evening on January 26th, February 16th or in March. Read more here.
December 15th
The team behind our upcoming "Walking Lecture on Ants" (pilot Aug. 2017) meet for the first tie for an intensive working day in Mols.
November 17th
Christine has gone to Helsinki for a ten-days residency at ESKUS – Performance Center where also our friends Other Spaces work.
November 3d
Christine has travelled to IETM i Valencia in order to expand our network and catch up, as well as work in The Mentor Room.
October 24th
We welcome a visit to Mols by two of the members of the Arts Council of the Aarhus Municipality. This way they could – at the nearing end of their three-year founding – experience the location and frames where most of "Landscape Dialogues"-projects take place.
October 1st
Secret Hotel continues the collaboration with Lone Mørch, started in August – with both developing the organisation structures, as well as concrete production tasks.
September 16th 2016
Our project "Mit Sted" (My Place) from Sept-Oct 2015 has now been well-documented by Rasmus Reimer, see it on this link. Click on "subtitles" in Youtube, and you should get our translation work, not the automated stufffff.
September 9th-11th 2016
Performance Writing meets the Ocean led by freelance artist Melanie Thomsen in National Park Mols Bjerge was held last weekend, with 9 content participants.  Inspiring days! Read more about the workshop.
June 6th 2016
At this years Frie Felts Festival Secret Hotel has been a part of the co-production Hamlet Private with Gnab Collective, starring performer Nini Julia Bang at Café Elefanten in Dansehallerne. The performance is shown 6th, 9th and 10th of June and the 8th of June it is possible to meet Nini and Christine to an Artist Talk event 4-5pm. Read more.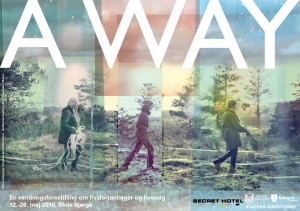 Secret Hotel and Aarhus Teater invites you for a strange picnic. Premiere 12th of May.
 A story of life – the ways we choose or the ways we leave… In A WAY you'll meet young and elderly people from Eritrea, Mols, Syria and Aarhus. Pieces of life stories tangle and intertwine as you walk in the spring through the hills of Mols, in a landscape where things are not as they seem. The tale starts when you get on the bus in Aarhus. Read more.
April 13th 2016
At this years Aprilfestival Secret Hotel shows B.O.D.Y – To have or to be 13th, 16th and 17th of April. Book free tickets.
Uta Plate and Christine Fentz also invites you to Other Land workshop investigating the connection between inner and outer landscapes and lifestories, investigating methods used in Secret Hotel's new walking performance A Way (premiere 12th of May). The workshop takes place 12th of april, 15.00-19.00 o' clock Frederiksberg Hovedbibliotek, Falkonerplads 3. Sign up: linde@nullzebu.nu
October 26th
Just finishing a workshop in Performance Writing by Melanie Thompson.
The 29th of October we in invite you to our first Storytelling eve in Mols.  Comeand listen when Britt Svejstrup Jochumsen from Randers Fortællerne lures the you into wild tales of fairies and trolls in the old days and now…Everybody is invited for warm soup and stories October 29th, 7.30 at Drejs' gård Provstskovsvej 9 Bogens, Ebeltoft.
October 3d
We've just had our friends from Sødalskolen visting Mols for the 2nd time, as guests at our general rehearsal, and tomorrow we then have the big performance day. Everybody are tired, but we believe in the result. Come walk with us October 4th, 11:30am, and 2pm (followed by Butcher Kruses Grill in action)
September 2oth
The Gellerup version of My Place went well, and the artistic team are now relocating back to Mols, for the next episode, at Molsskolen, including the children of Sødalsskolen visiting Mols.
September 7th
It has begun: The two Australian artists, Verena Curr and Sue Loveday – and the two Danish, Tina Andersen and Helga Rosenfeldt – have now, together with Christine, begun the work with the two 5th grade classes at Sødalskolen. In two weeks we invite you for the premiere on My Place, Sept. 20th!!
August 31st
We have planned to be madly busy in first half of Autumn – so now we have already begun our big autumn production My Place (Mit Sted), coprod. with The Walking Neighbourhood (AUS). Experience walking performance in Gellerup September 20th, and in Knebel, Mols October 4th.
August 30th
The Summer Lab is ending & closing – 10 magical days with 20 phantastique and inspiring teachers, participants and volunteers  is over, and all travel back home, feeling more rich. While the present reasons to travel through Europe makes everyone think once more…
August 25th
Summer Lab held the planned Open Day with many friends from both near and afar, and a full programme – through both light drizzle and sunshine all happened very well, the buffet from the Restaurant The Apples of Idun was, as usual, incredible good, and several people visited the sauna later on. All in all a very succesfull Open Day.
August 20th
Landscape Dialogues Summer Lab 2015 has started! See today's statement by Christine Fentz on facebook. On Tuesday we open the doors to the laboratory, with an Open Day, where all who are interested are welcome to drop by the old farm in Mols Bjerge.
August 6th
We begin the Autumn Season with an open Info Meeting about Secret Hotel, at Mogador Tea Salon, Aug. 13th at 7.30 pm. Hear about Landscape Dialogues, about our Autumn Programme and get a change to become a volunteer in one of our activities.
July 3rd
Summer has finally arrived! And soon we're off on holiday. But first it is our joy to present Secret Hotel's autumn programme for 2015. Have a look at our calendar here – and make crosses in your own!
June 7th
Christine has breathed in international and Danish inspiration on the festival LandSHAPE in Hanstholm, and is now on her way to Stege, Southern Denmark, for three days Work in the network In Touch.